The first Krishi Vigyan Kendra (KVK) of U.P. was established in Sultanpur District by the Kamla Nehru Memorial Trust during the year 1976-77. This project was sponsored by Indian council of Agricultural Research (ICAR), New Delhi for all round development of farming community in the district.
The concept of the KVK was to educate and motivate the farmers, farm-women and rural youth regarding application of latest proven technologies as such or in modified forms by organizing specialized pr generalized training courses as per needs of the area . Long duration vocational training was another aspect to build-up desirable attitude to provide new knowledge and skill in agriculture and allied activities to the rural youth for generating self employment. The training was based on the principles of "Learning by doing and teaching by doing".
During the 8Th Five Year Plan, the mandate of the KVK was restructured with integration of other Transfer of Technology Project i.e. National Demonstration, Lab to Land Programme and Operational Research Project operated separately with the different objective.
On the basis of need assessment of the farming community of district following thrust areas have been priorities.
Improvement of productivity of crops, fruits and vegetables with the introduction of H.Y.V, Hybrid varieties latest management of technology and package of practices.
Reduction in post harvest losses and promotion of value addition.
Breed improvement, health care and feeding management in livestock.
Promotion of organic farming, improvement of soil health and minimization of chemical use.
Promotion of integrated farming system.
Promotion of IPM / INM.
Management of farming practices in rain fed areas.
Crop diversification and introduction of high value crops with assured marketing at reasonable price.
Soil and water management.
Promotion of Agro-based industries for income generation.
To established as resource and knowledge generation center of agricultural technology.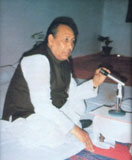 Late Sri Kedar Nath Singh (1928-1999)
Founder
Kamla Nehru Memorial Trust is well known organization which has been establish during year 1972. The trust was founded by Late Sri Kedar Nath Singh (Ex. Deputy Minister for Irrigation, Ministry of Agriculture Govt. of India). Sri Kedar Babu was a great visionary for Education and Agricultural Development, thus he started several institutions for the development of district Sulatnpur U.P. especially for rural youth who were lacking the higher education in field of science and technology which becomes a mile stone in the area of Human Resource Development in eastern Uttar Pradesh. Kamla Nehru Institute of Science and Technology came into existence during the year 1973.
Side by Side Trust has also started a child education by establishing an institute of child education from jr. kids group to intermediate.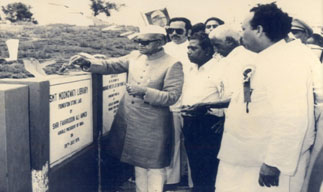 Foundation of The Institution (Honorable President of India), Dr. Fakhruddin Ali Ahmed.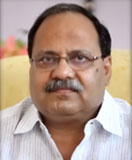 Late Sri Kedar Nath Singh (1928-1999)
Founder
During the fifth five year plan KVK (Farm Science Centre) came into existence to communicate the latest technology among the farming communities. In the year 1976, ICAR has sanctioned KVK to the Trust which became a new addition for transforming of agriculture in the district.
Since last fifteen years several numbers of professional faculties viz. MBA, Engineering , Polytechnic Technology, Information Technology, Agriculture, Home Science, Nursing, Pharmacy has been added to fulfill the requirements. In the leadership of Sri Vinod Singh, Secretary KNMT.
At Present the Institution is providing educational facilities for 18,000 children and youth of the Sultanpur and adjacent district.
Another Child education Institute is going to be establishing in Ghaziabad U.P.