Krishi Vigyan Kendra conducts various extension activities in collaboration with line departments for the extensive dissemination of technologies in agriculture and allied fields and to create awareness among the rural community on various issues of agricultural importance.
The KVK conducted the following extension activities for the every year
Field Day
Film Show
Method Demonstration
Farmers Seminar
Lectures delivered as resource persons
Farm Adviosry Service
Field Visits to Farmers Field
Awareness Camp
Celebrating the important days-World Food Day, Environment day etc.
Technology Week
Nutritional Week
Farmers Fair
Collage of Extension Activities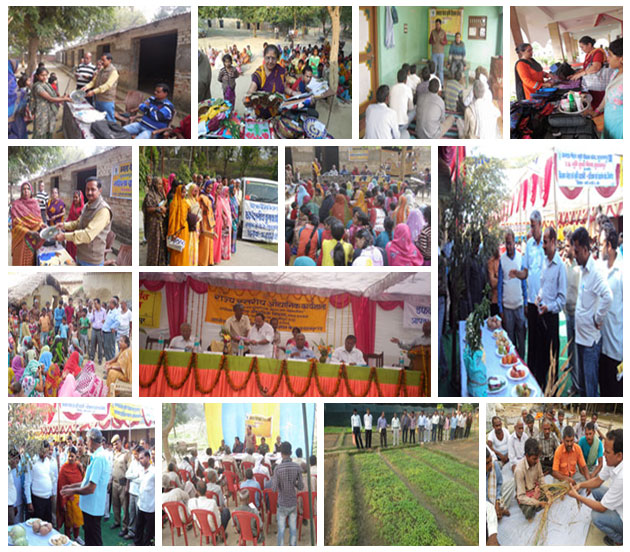 Extension Activities
In order to support and strengthen of various "Transfer of Technology Programmes", KVK has organized. Number of field days, farm science clubs, exhibition, farmers fair, radio talks etc. The details of extension activities carried out from 1980 to 2015 are given below :
| Activities | Number |
| --- | --- |
| Field Days | 302 |
| Farmer's Fair | 63 |
| Exhibition | 121 |
| Mahila Krishak Diwas | 24 |
| Youth Samaroh | 14 |
| Ex - Trainees Sammelan | 28 |
| Educational Film Show | 346 |
| Radio Talk | 90 |
| TV Talk | 103 |
| Exposure Visit | 41 |
| Farmers Scientist Interaction | 43 |
Apart from above immunization/ health camps, nutrition-cum- Bal mela and animal vaccination/ sterility camps were also organized in adopted villages.
Seed production prgramme
Quality seed is one of the major component for improving the agricultural production of the area. To fulfill the requirements, KVK has started seed production programme in collaboration with U.P. Seeds and Tarai Development corporation and other agencies since 1979. In the process of transfer of technology, availability of latest varieties of crops, vegetables, fodder crops and fruits, quality seeds, seedlings and saplings has major role in production technology. The KVK has established a permanent sale counter at head quarter and its instructional units since 1980 for supply of quality seeds, seedlings and saplings of different crops as well as agricultural implements to the farmers.
Production of Seeds and Planting Materials at KVK, Sultanpur
| Particulars | Quantity (Q / No.) |
| --- | --- |
| Cereal | 13180.39 |
| Pulse | 156.72 |
| Oil Seed | 244.42 |
| Vegetable Seed | 292.28 |
| Potato Seed | 3579.24 |
| Vegetable Seedling | 2472452 |
| Fruit Sapling | 575383 |
| Others | 429793 |
| Forestry | 208754 |
Collage of Extension Activities
| Client | No. |
| --- | --- |
| Total no. of Samples | 1,11,690 |
| Total no. of Farmerse | 94290 |
| Total no. of Village | 969 |
Organization of Village Institution
In collaboration with UPBSN , KVK has organized SHG's and farmers school/clubs for fecilitating the farmer's, farm women in the district detail are as under
| Particulars | (Name of Org.) MSHG | (N. of Org.) WSHG | (N. of Org.) Federation | (N. of Org.) FS / Club |
| --- | --- | --- | --- | --- |
| Organization No. | 419 | 848 | 13 | 23 |
| NO. of members | 5250 | 11159 | 218 | 116 |
| Sairing Till 2007(Lacs) | 36.44 | 74.20 | - | - |
| Disbursement | 53.57 | 126.40 | - | - |