| Crops | Variety | No. of Farmers | Area (ha) | Production |
| --- | --- | --- | --- | --- |
| Paddy | NDR - 059, MTV - 2029, NDR - 97, S - 52 | 1361 | 267.90 | 12807.73 |
| Wheat | UP - 2382, PBW - 343, HUW - 234, PBW - 154, PBW - 502 | 4050 | 810.00 | 38581.08 |
| Pigeon Pea | NA - 1, NA - 2, Preetam | 420 | 84.00 | 1346.00 |
| Field Pea | KPMR - 400, Shikha | 270 | 54.00 | 812.00 |
| Lentil | DPL - 62 | 200 | 40.00 | 640.00 |
| Total | - | 6521 | 1299.90 | 42221.08 |
KVK has mend for centre of extension with definite role in "Transfer of Technology" while field extension is being carried out by the state departments and development departments of the district. Therefore, evaluation of "Transfer of Technology programme" is by and large very difficult. Every short of technology provided to the farmers are closely associated and dependent on other conditions also. On the other hand the process of change is also very slow and complex. Thus, any impact received from the field reflected in totality not in isolation. Similarly, the impact of technologies in combination with training, demonstration and trials become more effective and strong than as single activity. However, attempt has been made to find out the direct and indirect impact of different programmes and activities of KVK on farming community in general and an individual of the operational areas.
Implement Promotion :
The KVK has established a well equipped workshop for developing prototype implements, modification and improvement of locally developed implements to minimize the drudgery as well as designing and developing improved implements. The KVK has developed a bullock drawn leveler with a capacity of 0.3 m3 soil which can be operated by all kind of bullocks. The leveler can be fabricated by local artisans very easily by investing Rs. 500/- As per needs of the farmers, KVK has also demonstrated power reaper, potato planter, ferti-seed drill, Zero Till Drill, Bed Planter and other manually operated small implements on farmer's field.
Social forestry :
Social forestry programme was undertaken on community land in the year 1985 with financial support of District Rural Development Agency, Sultanpur. Under this programme about 60 ha. Wasteland at five locations have been covered by planting of fuel, fodder and timber tree species.
Watershed Development :
Watershed development programme was initiated in village Itkauli and Sirwana in the year 1988. Under this programme, a seasonal nala have been tamed by construction of check dams at frequent intervals and planting of trees on embankments to check the loss of soil. and rain water.
Crop Production :
Crop production was the priority area of the district. The existing gaps between available technolgi9es and farmers practices of major cereals, pulses and oil crops have been identifies and action plan was developed accordingly.
Non-adoption of quality seed and latest varieties of crops, delayed planting/sowing of crops, use of imbalanced dose of fertilizers, non adoption of plant protection measures, poor communication and untimely supply of inputs etc. were some of the major problems. Since its beginning, KVK has emphasized on use of HYV and hybrid varieties of crops, timely planting/sowing, use of quality seeds, optimum dose of fertilizers and its proper placement and use of preventive and protective measures against insects, pests and diseases under "Lab to Land Programme" / Front Line Block Demonstration / FLD. The impact of these activities has improved the productivity as well as awareness among the farm families. The major impacts recorded so for is
Raising of paddy nursery up to 15th of June by 80% of the farmers instead of raising with onset of mansoon which was a general practice in the district.
Row cropping of mustard in wheat as well as cultivation of pure crop of mustard is widely adopted by the farmer instead of mix crop in wheat.
Adoption and application of phosphatic and potassic fertilizers zinc sulphate and sulpher in wheat, rice, pulses, oil seeds, potato etc. by 40% of the farmers instead of application of nitrogenous fertilizer only.
60% farmers have adopted use of phosphatic fertilizer and rhyzobium culture in adopted villages, whereas 20% in general instead of no use of fertilizer and inoculation of rhyzobium culture in pulse crops.
Use of weedicide becomes more popular among the farmers specially in rice and wheat crops.
Control of khaira diseases in rice and wheat, army worm and gandhi bugs in rice, pod borer in pigeon pea, aphids and alterneria blight in mustard, powdery mildew in field pea have been widely adopted by the farmers.
Farmers are always trying to replace their seed every year and looking ahead for new HYV instead of using same seed up to several years.
The productivity of adopted villages have been increased upto 30-35q/ha of rice and wheat, 12 to 15 q/ha of pulses and oilseeds. The average production of district has been increased three times to four times from 1977-78 to 2014-15.
Horticulture :
Horticulture is another enterprise which has great potential for utilizing of cultivable waste land diversification towards high value crops for getting maximum return by using optimum resources available with the farmers. The majority of horticultural crops grown are vegetables and fruits crops. In both the areas of horticultural crops, availability of quality seeds and seedlings of vegetables and plant protection measures, imbalanced dose of fertilizers etc. The efforts made by KVK through training, demonstration and other supporting activities has made a positive impact on adoption of technologies in horticultural crops. KVK has also facilitated for high-tech nursery, quality vegetable production, infrastructural development made with the assistance of IFFCO Foundation, Agri Business System India (Bill Gates Mirinda Foundation).
Vegetables :
Introduction of seeds of high yielding / hybrid varieties and seedlings of vegetable crops round the year is one of the major activity under taken by the KVK since its inception. The varieties developed by different institutions as well as introduced by the farmers were collected, tested, multiplied and supplied to the growers in time. A series of HYV of tomato, potato, brinjals, chilies, bulbs and cole crops, cucurbits, root crops and leafy vegetables etc. were most accepted by the farmers due to high yielding ability as compared to local varieties. Due to change in varieties, farmers were harvested 30% to 65% more yield and earn 30% to 45% more income by following improved and latest technologies like adoption of optimum plant population, planting / sowing methodology, soil and seed. Treatments, optimum dose of fertilizers and their placement and suitable plant protection measures. The villages where intensified efforts were made are Amhat(1978-79), Mirdaspur (1980-82) Narbahanpur and Seur (1983-84), Gairikpur and Bansi(1981-85), Ishakpur (1985-86), Saraiya (1995-96) and Bhadav (1996-98), Mahanpur, Badagaun, Pursipur, Pureghana etc.
Fruit Crops :
Since inception of KVK, it has been realized that there are immense scope and opportunity for development of sub-tropical and dry land fruit crops in the district. The soil and climatic conditions are very much congenial for promotion of fruit crops like aonla, guava, mango, citrus, jackfruit, ber etc. Cultivation of mango was promoted in cultivable land by adopting improved package of practices, whereas, aonla, guava, citruis, jackfruit and ber was promoted in cultivable wasteland. Package and Practices for banana crop var. G-9 have been also optimize for improvement of productivities in the district.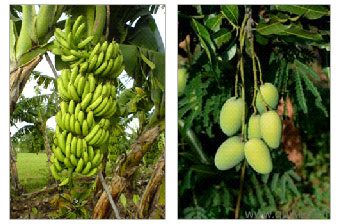 In the beginning in spite of conducting training programmes on layout and planting techniques, management of old orchards, plant protection measures against mango hoppers, mealy bugs, stem borer, bark eating caterpillers, powdery mildes, citrus canker, etc. Of the respective fruit crops and application of manures and fertilizers, KVK has also arranged the supply of quality saplings to the farmers. The rural youths have been trained for plant propagation techniques and nursery management under TRYSEM scheme for generating self employment. More that 30% of the rural youths, trained for mali work were employed in different organizations, whereas, 10% established their own nursery found earning an additional income of Rs. 20,000 per annum from the sale of fruit saplings and vegetable seedlings. The Sponsored program for expansion of area under banana and mango were also implemented with help of IFFCO foundation and covered an area of 8 ha.
Flower Cultivation :
Flower cultivation was almost nil in the district. The KVK has introduced some indoor plants, flowering bushes and seasonal flowers in the year 1978-79. The effect of land scaping at head quarter has attracted the people towards ornamental gardening. Therefore, the demand for ornamental plants are increasing every year. At present, KVK is earning Rs. 15,000 to 20,000 per annum from the sale of ornamental saplings and seedlings against nil in 1977 to 1979. With the increasing demand of flowers, several rural youth are motivated for flower cultivation. Due to pressing demand for flowers and ornamental plants in the district, the KVK is looking ahead for converting it as commercial enterprise for better earning to the rural youth.
Live Stock :
Live-stock is one of the most important occupation specially among the small and marginal farmers and landless families of the district. It enables to get and additional income and livelihood to a great extent. The practicing farm women are more concern about this enterprise therefore, prefence was given to farm women for improving the productivity by providing technical know-how through training and demonstration. Apart from it, KVK has also facilitated supply of improved breed of milch animals, poultry chicks and goats to the farm families by organizing animal fair at head quarter, since 1978. The landless families were promoted for goat keeping, backyard poultry alone or in combination depending on the requirement of the families. The goat keeping was intensified in village Kharagpur, Narbahanpur, Pindoria, seur, Balampur, whereas, goat keeping and backyard poultry was intensified in village Tiari and Saffulaganj, Breed improvement of non descript cows and goats have been also initiated since 1984-85 by providing improved bulls and bucks of barbari goats in nine villages.
In support of the primary needs, KVK has also promoted green fodder production by arranging quality seed of different fodder crops, health care and feeding management by organizing health and fertility camps in the adopted villages. As a result of this, in a span of three decades there are lot of positive impact specially in respect of adoption of cross bred cows and graded murrah bufalloes, increase in milk production and annual income. It also helps a lot in fertility improvement of soils by adding organic manures. As regards with the poultry, it has been observed that commercial poultry farming was not proved to be successful due to high cost and poor quality of feed and chick, and occurrence of epidemic diseases, therefore, emphasis was given only on backyard poultry by improving the small poultry house and supply of medicines and chicks.

Fisheries :
Fish culture was not a prevailing enterprise in the district and counted number of organized fish ponds were available for rearing of Indian major carps up to mid 70,s.KVK has started its fisheries unit in the year 1980-81 and emphasizes on composite fish culture rather than rearing of Indian carps only. In the beginning need based training courses of 2 to 12 days have been organized both at "off-campus" and" on – campus." The technologies related to composite fish culture were also demonstrated under "Lab to Land programme" in selected villages viz. Bhain, Tihra, Meharban ka purwa Mahilo Asapur and Balramau etc. The farmers of these villages were harvesting 3,500 to 4,000 kg. fishes per ha. per year with a net income of Rs 35,000 to 45,000 per ha per year. Encouraged with the results, other farmers and rural youth have taken keen interest in fish rearing and processing for getting old ponds on lease which are mainly under the ownership of village panchayats, In the mean time, KVK has also introduces exotic carps like. Common carp, silver carp and grass carp in the district. Now the composite fish culture became popular among the farmers to get maximum return instead of rearing Indian carps only. With the wide range adoption of fish culture in the district, the demand for fingerlings have been increased many folds. During the year 1998 about 125.55 lacs fingerlings of Indian and exotic carps were stocked against 20 lacs fingerlings in the year 1985-86. During year 1986-2015 numbers goes to 325 lacs.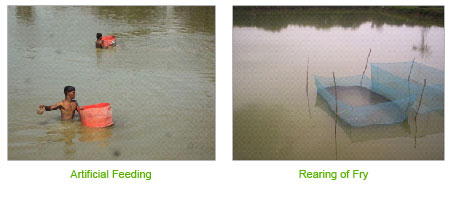 Agro - Service :
Increasing number of diesel pumpsets, threshers, trollies, increasing demand of grills and other agricultural implements has increases the potential and possibility of employment at local level in rural areas. In view of the above, KVK has assessed the needs and conducted long duration courses on engine and pumpsets repair and welding works for rural youths to generate self employment. During the perid of 1982-97, 864 rural youth have been trained in different trades. These trained youth are either engaged with different workshops and organizations on payment of Rs. 2,500 to 3,000 per month or established their own workshop.
Home Science :
Women folk of working groups in the rural areas have been played a major role in agricultural production. Therefore, due importance was given for transferring of farm technologies in respect of crop production, vegetable production, post harvest technologies, dairy, backyard poultry and goat rearing, whereas, rural youth were mainly attracted towards tailoring, embroidery, knitting, rural handicrafts etc. In the beginning, women were hesitating to attend the training programme at KVK, therefore off campus trainings were conducted in near by villages. With the popularization of training courses and development of training facilities, on – campus training courses.
were started since 1980. The long duration courses on tailoring and embroidery were conducted with the help of district administration under TRYSEM scheme. During the period of two decades,93 courses have been organized and 1,891 youth were trained. From the observation it has been found that 16.3% ex-trainees were running their own training centre on payment basis, whereas, 22.69% are serving as trainer in different organizations and earning Rs 1200 to 1500 per month. The rest 60.99% ex- trainees are doing their own job and earning an additional income of Rs 300-600 per month by stitching. Some of the trainees adopted subsidiary occupation like backyard poultry and goat keeping along with stitching. To quote few examples, Smt. Sabnoor Begum, Smt. Asbunisha, Smt. Rajia Begum, Smt. Umaitulnisha, Smt. Rajia Sultana etc. of village Tiari, block Kurebhar are getting an additional income of Rs 1600/- to 1900/- per month.
Apart from it, KVK has also promoted smokless chulha in the rural areas, specially with small and marginal families and landless agricultural labourers.
Several health and hygine programmes like health and immunization camps, child care etc. Have been organized in collaboration with the state health department in adopted villages. In the programmes special attention was given to pregnant and lactating mothers and children Under nutrition programme emphasis was given for nutrition gardening in the adopted villages to provide fresh vegetables and few fruits round the year for family members.
With the collaboration of IFFCO Foundation and ASI India, HI TECH infrastructures have been developed in the district for quality production of vegetables, planting materials and proper marketing of vegetables.
S. No.
Name of Organisation
Farmers
Village
Name of Structure
1
National Horticulture Mission / IFFCO Foundation
Sri Surendra Singh
Nevada
Poly House – 100 m2
Net House – 1000 m2
Sri Jai Prakash
Bada Ganw
Poly House – 100 m2
Net House – 1000 m2
2
Agri Business System, India (Sunehra India)
Sri Ashok Verma
Parashrampur
Net House – 200 m2
Drip System- 0.5 ac
Sri Virendra Singh
Koiripur
Net House – 200 m2
Sri Samsher Khan
Mahanpur
Poly House – 250 m2
Koiripur
Market Set along with Pool Chamber
Kamla Nehru Memorial Trust was collaborated Dutch Government (Netherland) with Indo-Dutch Project under Kamla Nehru Krishi Vigyan Kendra for development of this region and rural youth / formers.
Objectives:
Water Soil Conservation.
Water Distribution and Utilization.
Technology Transformation.
Motivation for Youth / Form Women.